METAL FRAME TENT
FOLD
Rapid deployment shelter with patented one-piece folding frame system.
The FOLD features a folding aluminum frame, ensuring easy and quick installation. It stands out as a universal and unique modular shelter system, available in various sizes and functional modifications, making it the most versatile shelter of its kind on the market.
The patented anodized aluminum foldable frame is assembled into one functional unit, eliminating the risk of losing components and fasteners and streamlining construction. Moreover, the FOLD shelter can accommodate both suspended (EXO) and laid (ENDO) roofs, maximizing its adaptability for any application. It's worth noting that both roof types are compatible with the same frame style. It's ideal for creating camps, field hospitals, or command posts with varying layouts, providing a flexible and efficient solution.
FOLD-ENDO
FOLD with endoskeleton which gives it a better wind and snow resistance.
FOLD-EXO
FOLD with exoskeleton is our metal frame solution for decontamination units.
FOLD-ISO
Metal frame container roofing system – two rows of ISO containers with a roof spanning the space.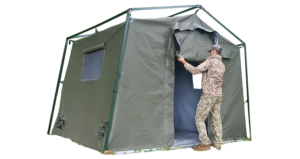 FOLD-L
Light tent for 2 people, deployed in 10 minutes. Smallest Nixus tent available.